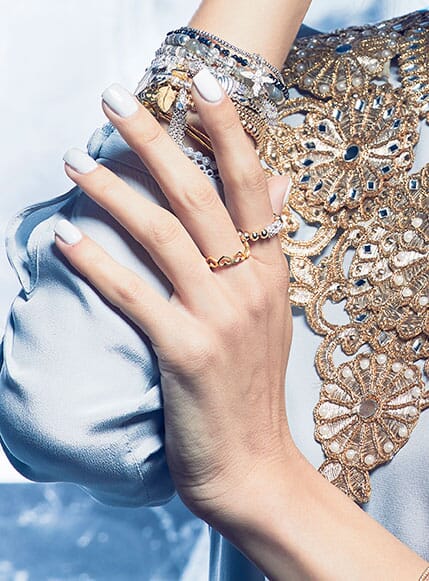 Fear of stocking fillers becoming a bit samey year after year? Not to worry, we've got plenty of little treats to add a twinkle to the present pile this year!
We have been LOVING the 'Cosmic Star' bracelets this season, whether you go for one in the classic silver or in on-trend rose gold it'll be sure to put a smile on your loved one's face. With a trio of stunning colours to choose from you can't go wrong! Midnight blue gives an air of effortless glamour, the vibrant orange is great for effortless everyday style, and the dusty blue is chic and feminine. Take your pick!

Hematite is the colour of the season, with our Hematite Boxed Star Silver Bracelet becoming the star of the show! Inspired by the twinkling constellations across the night sky, this gorgeously dark bracelet is the perfect little gift for a party girl to open on Christmas Day.

If you're looking for a tiny stocking filler, our Marquise Silver Earrings are the perfect fit. Handcrafted in Sterling silver and available in hematite, clear crystal and blush, these earrings with an oval shaped genuine Swarovski crystal are ideal for a gentle hint of sparkle come Christmas morning.

Add a touch of classic style to a loved one's jewellery collection with our cute 'Open Heart' rings, available in silver, gold and rose gold. The joined open heart design is elegant and stylish, making it the perfect little gift!

Stars are an absolute must this season and our 'Tiny Boxed Star' necklaces are no exception! Whether you go for the silver, gold or rose gold, it's great for all occasions come day or night.

That's her stocking fillers sorted, we think it's time for a mince pie and mulled wine!
SHOP THIS STORY