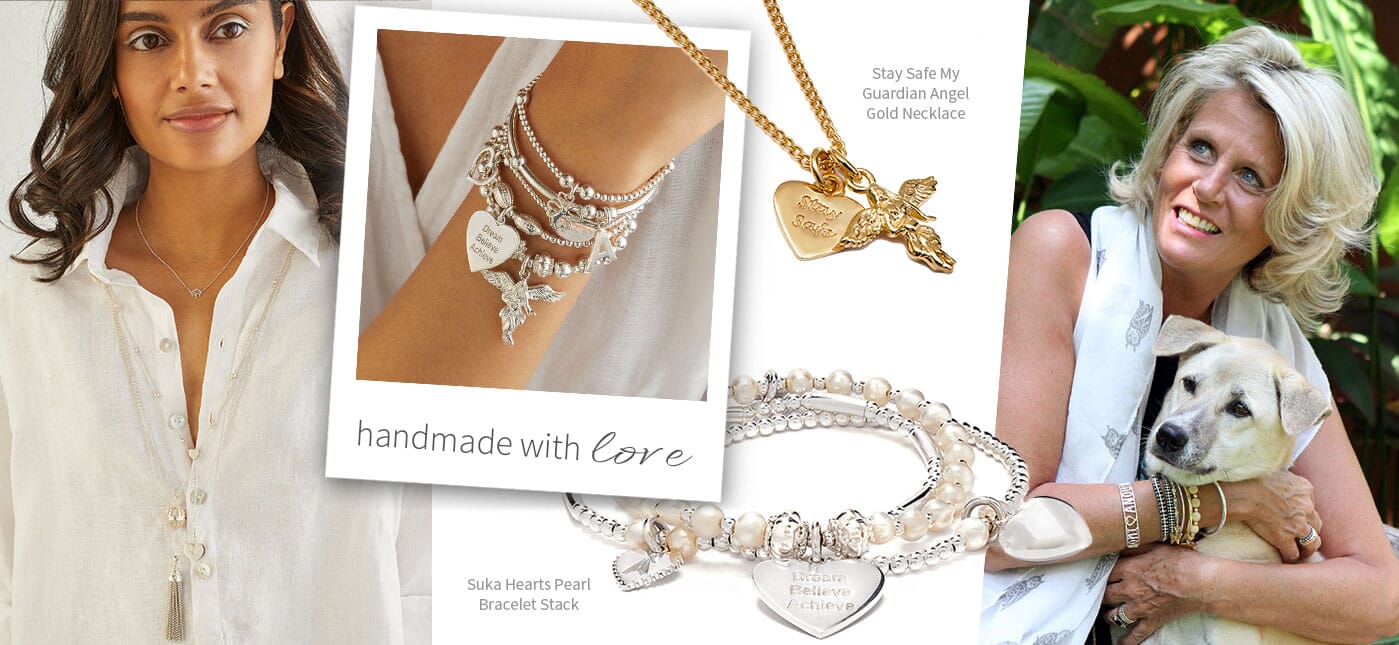 ANNIE HAAK
Founder, Designer & Managing Director
Taking triumph from near tragedy and proving the doubters wrong, ANNIE HAAK can be rightfully proud of what she has achieved. Creating enchanting bracelets, necklaces, rings and earrings are much sought-after and now worn by a host of celebrities including Joanna Lumley, Jodie Whittaker, Binky Felstead and Fearne Cotton.
Her dream started to take shape out after her husband Johnie was critically injured in a motorcycle accident in Bali. Watching over Johnie that day was his Guardian Angel and so became the signature piece for Annie Haak Designs, the 'My Guardian Angel' charm. On that trip, a chance encounter with a taxi driver became the turning point in ANNIE HAAK Designs as he introduced Annie to a local silversmith, who breathed life into her designs.
They symbolise love, strength, protection and wellbeing; the 'My Guardian Angel' charm was born in response to Johnie's accident, 15 well-being mottos feature throughout every collection engraved onto silver charms, and the three hearts that make up my logo represent each of my three children: Anoushka (Nu), Jochen and Naomi (Mimi).'
Annie gets much of the inspiration for her designs from the magical island of Bali where she is based for most of the year. Her influences are gathered from many aspects of Bali life from the local flora and fauna, the magical people and the colours and patterns found in the local markets and villages.
The island of Bali is hugely important to Annie and hopefully some of the charm and character of this wonderful island shines through in the inspirations so clearly reflected in her designs.
Many of Annie's designs are intended to carry a special meaning by way of mantras or symbols that represent luck, love, protection strength and well-being. It is core to Annie's design ethos that all her designs should carry a message of either love or support. Many of the pieces can be personalised with initials and a choice of mantra to pass on a special message to the recipient.
Annie Haak's favourite jewellery box contents?
"Being different appeals to me, whether it is with a large jewellery pendant or a more intricate delicate bracelet. I adore glitter pieces and enjoy jewellery that incorporates a motif as an integral design feature. One brand motto - 'dream, believe, achieve' - is close to my heart, with a great deal of personal significance."
The Annie Haak jewellery style, in her own words?
"The ANNIE HAAK DESIGNS style is to seek harmony, with jewellery that can be worn individually or stacked proportionately for added panache. The use of colour – using gemstones, crystals or other semi-precious stones - adds an important design element, as do affirmations that make people feel good or add a touch of significance to an item."
Her signature piece?
"The 'My Guardian Angel' was first charm creation, developed in collaboration with a lone silversmith in Bali. That was at a time of life-changing moments which we all face, losing loved parents or facing adversity and uncertainty."
Annie Haak's beginnings as jewellery designer?
"Design is in my blood, having previously worked as designer, painter, and creator of personalised children's pictures prior to introducing jewellery as a new product offering. The dream was born. All jewellery designs are developed in Bali, with tremendous support from a talented team at our UK design and production studio."
Business blues, starting up?
"I come from a background of successful entrepreneurs. As the banks refused to listen or help, I re-mortgaged my home in a leap of faith to finance the launch of ANNIE HAAK DESIGNS. This went against all advice from friends and associates, but I could see the potential of the brand. Despite setbacks and inevitable errors of judgement, for example in some poor partnering decisions, I've believed in myself and never really looked back since. And continue to learn all the while."
Sources of creativity?
"I always seek inspiration and originality when creating wonderful jewellery designs. Giving with a significant affirmation or to present something that truly means something to a person is fundamental to ANNIE HAAK DESIGNS philosophy. It's terrific to keep up with fashion, but I believe that ANNIE HAAK DESIGNS jewellery is created to remain timeless and enduring."