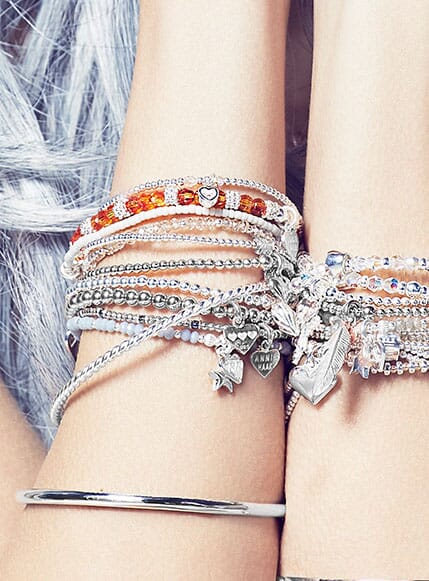 Fizzing Catherine wheels, glittery sparklers, cold noses and bonfire aromas, that's what we look forward to in November. Remember, Remember the 5th November an annual commemoration where fireworks are lit, hands are help, sparklers sparkle and bonfires roar. It's a family tradition we look forward to every year and it's already upon us!

If you're not so much of a fan of standing outside and watching the firework display then why not wear your colour around your wrist in the form of a Swarovski crystal! The ANNIE HAAK range of Swarovski Sparkle bracelets is inspired by the fabulous array of colours that Autumn brings and the Fire Opal and Jet Black Aurora Borealis hues are the perfect reflection of this.

The vibrant orange crystals of the Swarovski Sparkle Silver Bracelet – Fire Opal is the perfect piece to add some vivid colour to your winter wardrobe. Featuring 925 Sterling silver flower spacers nestled between gorgeous genuine Swarovski crystals in 'Fire Opal', the statement bracelet was born to be worn on 5th November! Coupled with the Swarovski Sparkle Silver Bracelet in Jet Black AB and Clear Crystal, whichever way you look, the delicate hues captured in the stones are positively twinkling!

If a bracelet isn't enough, pair your sparkly arm candy with the beautiful range of Blissful rings available in gold, silver and rose gold. The hand-threaded delicate rings are threaded on high quality jewellery elastic, made to stretch to any finger you feel like wearing them on!

For a subtle nod to the electrifying Bonfire night, the Heart Crystal Silver Dangle Earrings are shimmery, chic drop earrings featuring two faceted heart shaped cubic zirconia's encased in silver. For the perfect sparkle, pair with the Blissful Swarovski Heart Crystal Silver Charm Bracelet.
Have a beautiful Bonfire night and be safe!
SHOP THIS STORY