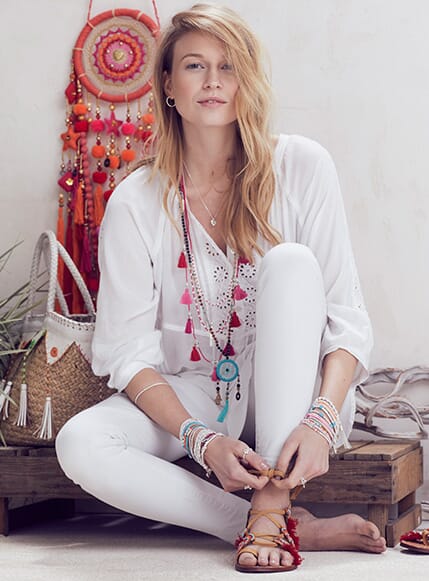 It's the season of boho chic and with festivals and summer holidays on the way bright colours are a definite fashion favourite.
Our selection of brightly coloured designs are perfect for wearing with your summer wardrobe staple pieces. From Aztec prints and distressed denim to beautiful chiffon maxi dresses, our jewellery goes with it all!

Our Malai Pink Tassel Necklace and Dreamcatcher Lava Beads Necklace in turquoise look lovely layered up on top of a crisp white blouse for a dreamy bohemian look. The pretty pink and turquoise give a vibrant finish, with the tassels and dreamcatcher giving your outfit a gorgeous touch of colour.

Flower crowns and band tees are a must during festival season. And of course you need to add some colour to your edgy style with our gorgeous 'Boho' rings and bracelets. Designed with brightly coloured beads mixed with stunning silver for a trendy twist.

A cool stacked bracelet look means, mixing vibrant turquoise with brightly coloured tones for some super summery styles. Our 'Cosmic Star' silver and gold bracelets in turquoise pair perfectly with our new 'Infinity Friendship Bracelet' for an eclectic combination of colour. Add a strand from our Tranquil Turquoise Collection
for an extra hint of that calming blend of blue and green.

Colourful jewellery radiates with summery boho vibes, so come rain or shine you'll feel summer ready!
SHOP THIS STORY