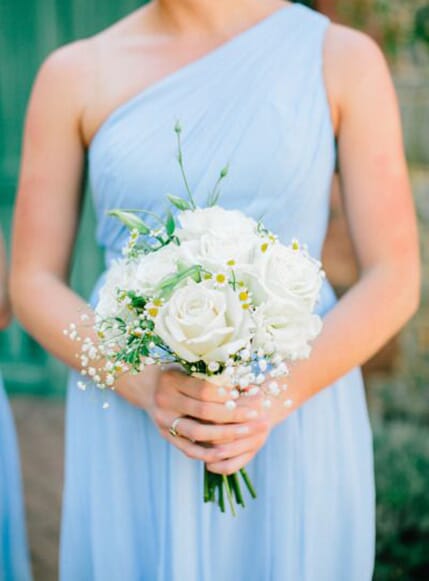 Wedding season is in full swing! You've found your dream dress, but what about those bridesmaids? Luckily there are plenty of gorgeous bridesmaid dresses out there to choose from and with our new Bespoke Wedding Collection styling your accessories has never been so easy!
Whether you're going for a mix-match look or all your girls are wearing the same dress, our new collection will compliment any bridesmaid's outfit as each bracelet comes personalised with your choice of engraving and coloured Swarovski crystals. With 7 fabulous colours to choose from, you can choose the perfect bracelet to match your colour scheme!
BLUSH PINK & ROSE GOLD

Pink and rose gold are like a match made in heaven, especially for a wedding! Choose a gorgeous, floaty chiffon blush pink dress along with hints of rose gold for a romantic look. Heels and a clutch bag match perfectly with our Tiny Boxed Heart Rose Gold Necklace and 'Grace' rose gold looped bracelet with clear crystal or blush pink genuine Swarovski crystals. A glamorous and girly look, perfect for a rustic barn setting.
PERFECT PURPLE & GOLD

Deep plum and amethyst tones are ideal for those purple lovers out there, who want to move away from more traditional lilacs. Paired with gold, it's a colour scheme A-Listers would envy! Long dresses are still very much in this season, but you can keep those feet looking glam with some gorgeous gold stilettos. Pair a gorgeous gold clutch bag with our Blissful Swarovski Crystal Gold Ring and our 'Grace' gold looped bracelet complete with amethyst Swarovski crystals for a dazzling sparkle. Go for a golden eyeshadow look to really pull the whole outfit together.
BABY BLUE & SILVER

A light shade of blue and silver is a gorgeous wedding colour palette and ideal for sunny summer dates. Short 'skater' style bridesmaid dresses look fabulous with nude chunky heel sandals, don't forget to paint those toe nails a matching shade of blue too! Our Tiny Crystal Heart Silver Necklace looks dazzling with a pretty up-do. Add another hint of sparkle or your 'something blue' with pale blue Swarovski crystals on our silver 'Grace' looped bracelet, the ultimate finishing touch!
If the duo strand of our 'Grace' bracelets isn't quite enough glitz and sparkle for your bridesmaids, why not opt for our 'Graceful' triple looped bracelets? Also available with a choice of personalisation and 7 coloured Swarovski crystals – Pale Blue, Chrysolite Opal, Blush Pink, Metallic Sunshine, Fuchsia, Amethyst and Clear Crystal. Perfect for any colour palette!
SHOP THIS STORY