Christmas Party Essentials
with Charlotte Lewis.
When it comes to accessorising sometimes its hard to know what is right and what is wrong – well let us tell you there are no rights and wrongs with accessorising its all about personal choice. Our guest blogger Charlotte Lewis definitely knows what on trend style works for her. Delicate jewellery that packs a punch, instead of large statement necklaces. ANNIE HAAK's elegant jewellery is the perfect finishing touch to any of her outfit, especially throughout the Christmas period. You can see her collection of jewels here.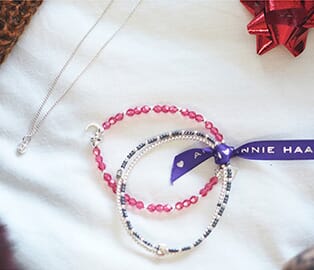 Mixing up silver with a splash of colour with our gorgeous Whole Lot Of Sparkle Bracelet (RRP £60), which stacks perfectly with our Serasi Dua Silver Bracelet – Hematite (RRP £55). Charlotte's festive photography captures our stunning jewellery in great detail showing off what the prefect Christmas gift could look like. We would love to receive an ANNIE HAAK piece of jewellery for Christmas… wouldn't you?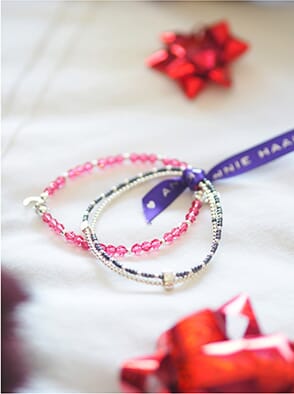 Any fans of Charlotte's blog may have noticed like the silver chain pendant necklace she usually wears has been layered with our necklaces for a contemporary look. Her preferred choice of ANNIE HAAK necklaces to layer over the festive period is our stunning Crystal Heart Silver Necklace for just £35. Mix and match different chains for the perfect modern fashion look, which is Charlotte's top tip!
If you are looking to treat yourself or a loved one this Christmas we have the answer!
Don't waste another second worrying about what gifts to buy, get Christmas ready with us!