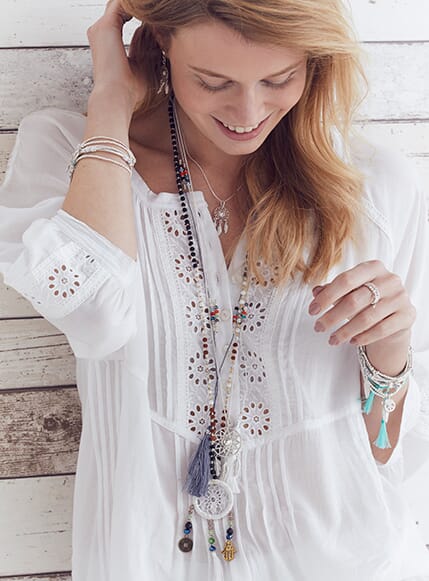 It's time to let your wildest dreams come true with ANNIE HAAK's new dreamcatcher jewellery, new with our SS17 Heavenly Collection.
Traditionally, dreamcatchers let the good dreams pass through the hole in the middle of the webbing and glide down the feathers to the sleeping person below. They protect you from negative dreams by catching them in the web so they are destroyed by the light of the morning sun.

The original web dreamcatcher was thought to teach natural wisdom, as it's made from twigs, sinew string and feathers. Once the ring and web are weaved, the dreamcatcher is thought to represent love, honesty and purity.

If you love a boho vibe, our 'Dreamcatcher Lava Bead' necklaces in white or turquoise are the perfect addition to your festival style wardrobe. Strengthen your connection to Mother Earth with the beautifully unique necklace full of wonderfully natural colours and texture from the Lava Beads, a type of rock formed during volcanic eruptions which are believed to promote strength and fertility.

Or if you're looking for something a bit more classic ANNIE HAAK, then the Dreamcatcher Pendant Necklace or Itsy Bitsy Dreamcatcher Necklace in 925 Sterling silver are the ones for you. Designed by Annie to offer protection and guidance to those who wear them, these both go perfectly with the matching Dreamcatcher Silver Earrings for a chic outfit.
Add these stunning statement pieces to your ANNIE HAAK jewellery collection now!
SHOP THIS STORY