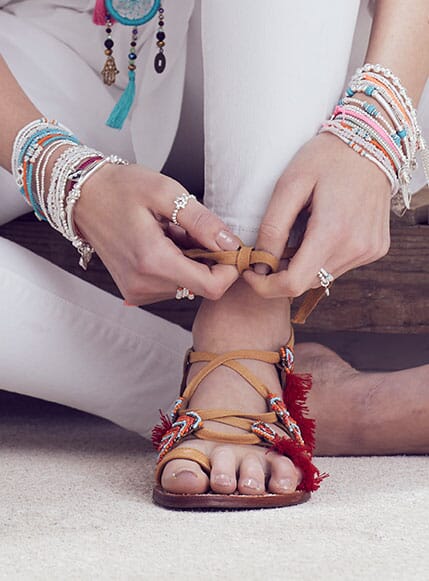 Fabulous friendship bracelets for your BFF!
This season bright and beautiful colours are in and our collection of pretty friendship bracelets are just as gorgeous! Whether it's a friendship bracelet from our new our SS17 Heavenly Collection or a classic ANNIE HAAK piece, we have the perfect bracelet for you and your friends.

For ever lasting friendship our Infinity Friendship Bracelet is perfect with a choice of five luxe colours – Hot Orange, Turquoise, White, Magenta and Hot Pink. This style is perfectly stackable, so pick a few to create your favourite combination!

For a unique twist on the traditional friendship bracelet, let us introduce you to our Chain Friendship Bracelet a mixture of handwoven nylon cord and a dainty silver chain with a choice of 3 stunning summery colours. Perfect for popping into your suitcase for your sunny summer holiday, wearing at festivals or just for every day style!

Grab all the attention this summer with our beautiful 'Boho' bracelets! Made with strikingly colourful turquoise, orange and white Japanese glass beads, these bracelets make a fantastic addition to any jewellery collection, so why not collect the set for you and your BFFs!

A gorgeous handmade soft leather wrap bracelet with silver beads, is our popular Mini Wanti Silver Friendship Bracelet a favourite of many. Choose from turquoise, grey or black coloured silk alongside silver beads and soft woven leather for a casual layered look.
Whatever you have planned with your friends this summer, make sure you are doing it in style, by coordinating your bracelets with your most loved pals.
SHOP THIS STORY