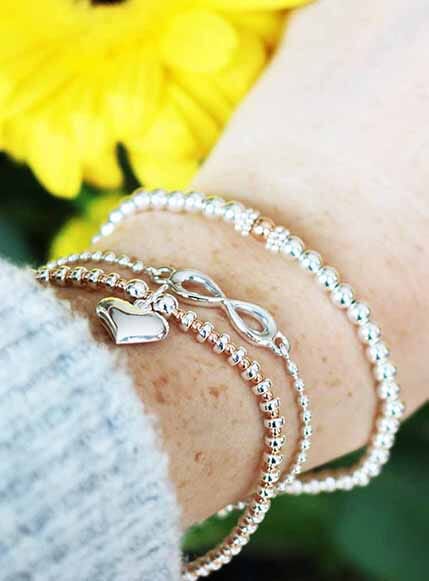 If you're after something special that's just as sweet as chocolate but with half the sugar, we've got the perfect gift to treat your loved ones over the four-day weekend. Check out our list of favourite pieces to inspire you for that extra special treat this Easter.

Stackable single strand bracelets
ANNIE HAAK's charm bracelets are designed to carry a special meaning, mantra or message reflecting love, luck, protection and well-being. If you're after a daintier piece with a unique meaning, we love the Santeenie Silver Charm Bracelet with the feather charm, a charm to represent freedom and connection. Coupled with our Infinity Forever Silver Charm Bracelet and Frankie's Silver Bracelet, these stackable Sterling silver bracelets look delightful when stacked or worn solo for a more feminine touch.

Bracelet Stacks
If one just isn't enough, take a peek at our stunning bracelet stacks, specially selected and put together by ANNIE HAAK herself using her favourite stackable individual bracelets. The Sama My Guardian Angel Silver Charm Bracelet, our Signature 925 Sterling silver hand-threaded stack features Annie's standout charms including the signature 'My Guardian Angel charm', a lucky 'Four Heart Clover' and can be personalised with your initial and a feel-good motto charm, the ultimate stack for luck, love and protection. If dainty stacking is your thing and you're after a more delicate touch, the Entrancing Bracelet stack or the Lucki Silver Looped Bracelet are ideal to style you from day to night.

Necklaces and earrings
An outfit just isn't complete without a necklace, right? And here at ANNIE HAAK we love to experiment and layer up our necklace style. The Itsy Bitsy My Guardian Angel silver necklace is a beautiful symbol of protection and looks chic when layered with the Marquise Silver necklace in clear crystal. For a statement style, browse the Gili necklace collection: our favourite, the Gili My Guardian Angel Silver necklace features a 90cm long chain and a solid 925 Sterling Silver Angel charm, Annie's first charm, taking centre stage.
#theoriginalstackingbrand
SHOP THIS STORY