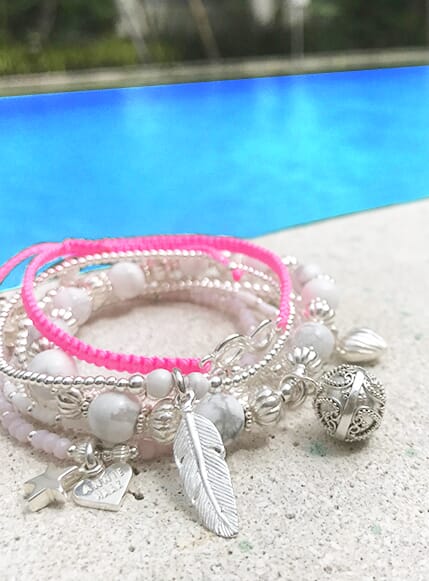 Our new 'Feather' charm has been so popular since the launch of our SS17 Heavenly Collection it has been sold out for a few weeks, but we are delighted to say it is now BACK IN STOCK – YAY!
Inspired by the idea that when a feather appears an angel is close by, our 'Feather' charm is there to remind you loved ones are never too far away. It's a meaningful reminder with a spiritual connotation.

A variety of beautiful dainty bracelets designed using Sterling silver, gold, rose gold combined with beautiful turquoise or marbled grey tones, there are plenty of pretty pieces to adorn your wrists with. Our Tranquil Turquoise and Harmony Feather Silver Charm Bracelets have been flying off the shelves – quite literally! The turquoise and Howlite beads signifying those much loved summery boho vibes we all dream of this time of year.

As you all know stacking your bracelets is a trend that is not going anywhere, so decorate your wrists in the latest ANNIE HAAK stacks featuring our feather charms which are now BACK IN STOCK – HOORAY! A firm favourite in the office and our top pick of the moment is the Blessed Bracelet Stack and it is easy to see why! Subtle muted pink tones mixed with marble effect beads and not to mention our dream ball that has a delicate jingle as is swings back and forth…. What's not to love?

If you are more of a delicate necklace kinda girl we have this area covered too. Step forward the Itsy Bitsy Feather Necklace. An ideal companion to your feather bracelets and what's more it comes in a choice of three different metals, now that is what we call spoilt for choice.
Inspired by angels, the ANNIE HAAK Feather Collection is sure to set your spirit free.
SHOP THIS STORY