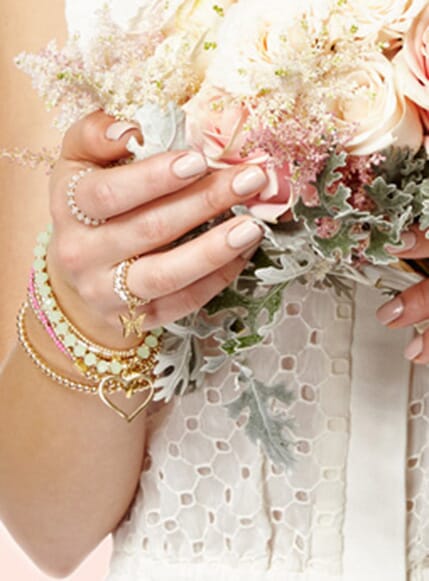 ANNIE HAAK jewellery and weddings really are a marriage made in heaven!
We have a selection of fabulous jewellery perfect for your big day and bridal party, a whole host of delightful dainty pieces to add some sparkle to your bridesmaid's outfits or even an engraved message for the mother of the bride, not forgetting 'something blue' for yourself.
So ladies do not despair anymore, we have taken the hard work out of looking for wedding jewellery buy collating all our top pieces into one easy accessible place. Click here to shop now.

ANNIE HAAK Wedding Look
Our favourite pieces from our wedding collection has got to be our Amiya's bracelet, this is an absolute fave from our brides, even our very own marketing and design executive Chloe wore this on her wedding day!
What better way to say thank you to you lovely maids for all their help in the run up to your special day, than with a stunning piece of jewellery engraved with your wedding date on it. Our Sari Personalised is just that, you can even shop from a selection of Swarovski crystals to match the colour scheme of your wedding! I mean does it get any better?!
If you are about to tie the knot or have already, good luck and congratulations from everyone at Annie Haak xx