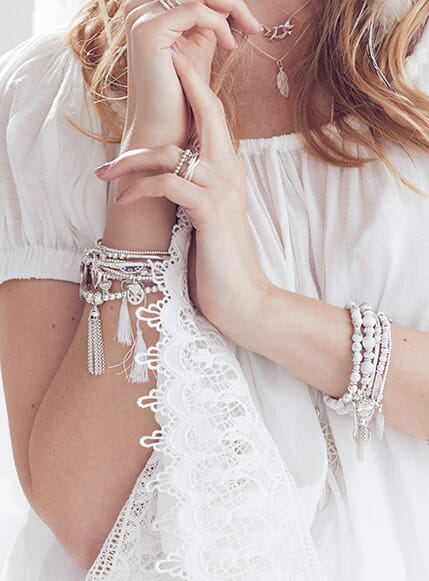 The bracelets of your dreams have arrived and it's time to give your jewellery box a new lease of live with the new Harmony Collection!
Indulge in the cool grey tones of fabulous bracelets hand-threaded with beautiful marbled Howlite beads, which have calming and healing properties. The elegant yet beautiful chunky beads may just calm you into a daydream state!

Howlite is often used to reduce anxiety, tensions and stress as it calms and soothes emotions, helping you to drift off into a deep and restful sleep too. Keeping a piece of Howlite in your pocket (or on your wrist as a fabulous accessory!) will absorb negative energy and help to strengthen positive character traits.

Each bracelet in the Harmony Collection features a magical charm, including old favourites such as our 'Chain Tassel', 'Open Heart' and 'Heart Motto' charms alongside our shiny new 'Feather' and 'Dream Ball' charms.
The 'Dream Ball' charm is traditionally thought to carry your hopes and dreams keeping them safe, as it jingles with ever move. So, what better way to protect your dreams than with a delicate piece of stunning jewellery.

For the ultimate relax state of mind, indulge in the whole Harmony set of five bracelets, holding your dreams close while releasing tension and stress the perfect combination for complete mindfulness and wellbeing.
SHOP THIS STORY