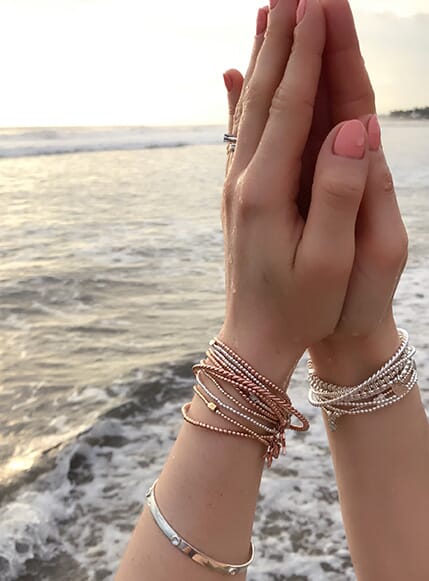 This is the season to glow with rose! Stop your long-lasting search for the perfect rose gold jewellery, we have the best jewellery pieces money can buy this summer!
What better to celebrate summer than with pastel colours and rose gold jewellery. The warm, soft tone of rose gold is the perfect accompaniment for neutral tones such as white, khaki, charcoal and nude colours. If you're looking for something a little more vibrant, style your rose gold with pinks, turquoise and aqua.

Elegance is key when it comes to your jewellery and bangles are perfect for that classic yet contemporary look. Step forward our Exquisite Bracelet Stack for a beautiful touch of sparkle. Our Twisted Rose Gold Bangle is truly unique and ideal for those long summer evenings, dazzling in the moonlight.

Our rose gold necklaces are a brand-new edition to this summer's collection and we are in love!!! Introducing the nautical inspired Itsy Bitsy Anchor Rose Gold Necklace and the pretty Itsy Bitsy Feather Rose Gold Necklace. A nod to seaside dreaming all summer long!

Style your rose gold bracelets and necklaces with rose gold earrings to complete the look. We have a variety of gorgeous hooped and stud designs to choose from, but our favourites have got to be the two from the recent Love Story Collection! Quirky oval shapes and a modern twisted design for all round on-trend style.

Oh and one last piece of gorgeousness… hello rose gold rings! Adorably subtle is our Delectable Ring stack which creates minimalistic elegance and a flawless finish!
Our selection of glorious rose gold jewellery gives you a good excuse for a shopping spree!
SHOP THIS STORY