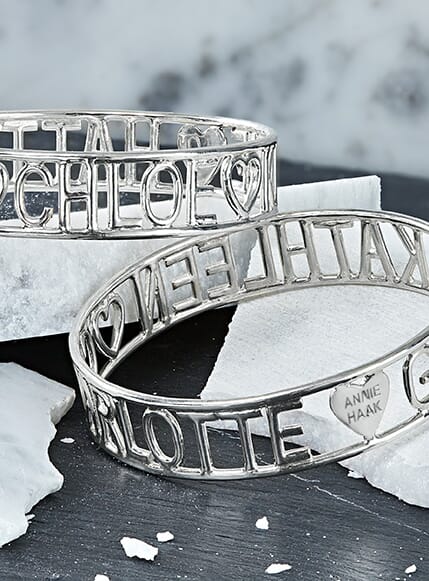 With Christmas approaching, you are probably thinking about the extra special gift to purchase for your mother, friend or loved one. If you want a real tear jerker for the festive morning, look no further than our collection of bespoke and personalised jewellery.

Our truly unique Bespoke Love is All around Bangle is designed and overseen by Annie from beginning to end and lovingly hand-crafted by Annie's silversmith of 8 years and now a dear friend, Kadek in Bali.
Before being created in silver, each bangle is created in wax to create a cast. Your choice of message or names will then be carefully soldered onto the bracelet by the artists using their expertise and skill to create for you a perfect and individual one-off piece of jewellery which you can treasure.
This exquisite statement pieces will be treasured and nurtured by any recipient. To guarantee those winning smiles on Christmas morning we advise placing your order for our Bespoke Love Is All Around Bangle now as this takes six weeks to produce.
Check out our inspire me page to see how we style our bespoke jewellery and also why not shop the collection below to purchase your special pieces of silver treasure.