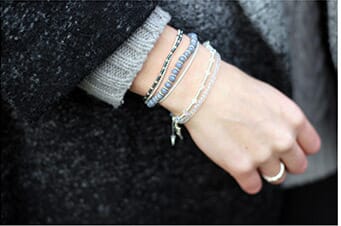 Over the last few months we have been working with the gorgeous blogger Charlotte Lewis who's lovely blog is called Lurch Hound Loves. These are the beautiful pieces of jewellery that featured on her latest blog you must head over & have a read.
"ANNIE HAAK's range of 925 sterling silver bracelets is so diverse, you can mix and match or buy one special bracelet.."
Why not get Charlotte's beautiful look & stack up in style with a few of our fabulous bracelets.
1. Swarovski Rosary Crystal Necklace £90 2. Minu Star Silver Charm Bracelet £50 3. Ladies Love to Have fun Bracelet £50