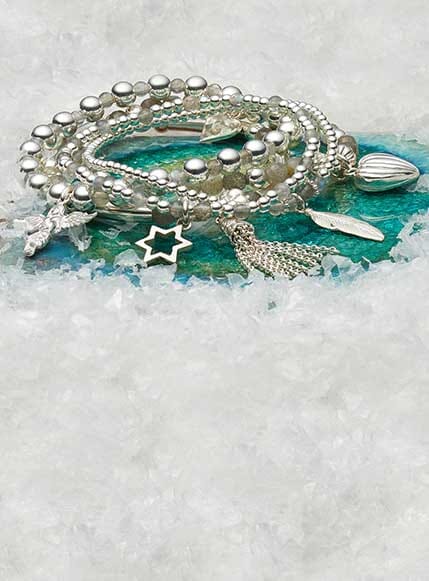 Add some clarity and balance to your life with our beautiful range of Labradorite bracelets.
Our collection of Labradorite bracelets are elegant, classy and chic. Labradorite is said to help to balance and protect you while strengthening your intuition and banishing fears and insecurities. This powerful semi-precious stone can also relieve anxiety and stress, as well as balancing your hormones. What more could you want from your jewellery!

A unique and magical stone, the soft grey tones of Labradorite shimmers with mystical flecks of dark blue and green just like the Northern lights dancing across the sky. It is said that in ancient times, the Eskimo Inuit and the Native American Innu of Labrador believed that Labradorite was in fact the Aurora Borealis trapped within the rocks of the shoreline of Labrador in Canada.
If your style is simple yet sophisticated, our Labradorite Feather Silver Charm Bracelet may be the one for you. With our super popular 'Feather' charm taking centre stage amongst four beautiful Labradorite beads.
If you want something with a little more oomph, the 'Lined Heart' or 'My Guardian Angel' Labradorite bracelets may be more you. With chunkier beads and stand out charms, these bracelets are sure to grab all the attention.

Can't decide which one to go for? Why not go for the stunning Aurora Bracelet Stack, bringing all five of the Labradorite designs together in a classic ANNIE HAAK statement stack.
Offering a mystical wintery feel for any occasion, our Labradorite collection has sure got some magic behind it. Let your jewellery dazzle and delight!
SHOP THIS STORY