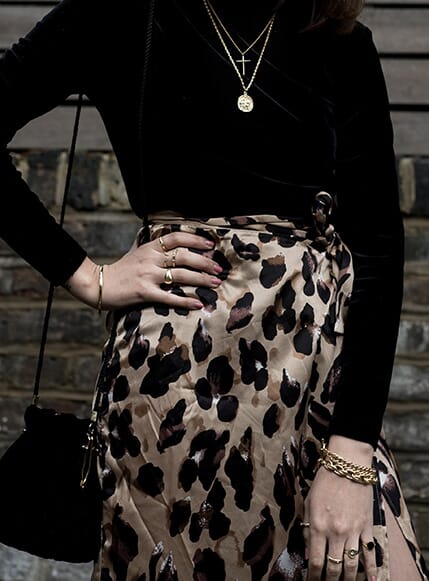 If you know a girl who is a classy yet edgy, sexy and subtle, then the debut collection from NU & MII Abundance, is the place to shop for the perfect Christmas gift. Brought to you by co-founders Mimi and Nu, here's your go to gift guide this Christmas from NU & MII.

Mimi's top picks
When it comes to fashion, Mimi shops outside the box, mixing simple tees with chunky knit scarves, textures with pattern, and plenty of statement jewellery to accessorize with. Her go to metal is gold!
Make that special someone's Christmas that little bit extra with the NU & MII St Christopher Necklace. A unique gift from her Grandfather, Mimi's go to staple piece is the gold edition. Mimi teams her St Christopher with dark shades of simple knits, the perfect canvas for the pendant necklace to take centre stage!

Another favourite from the co-founder is a pair of NU & MII Hoop with Cross Gold Earrings, perfectly versatile to style you from day to night. Whether you're having a relaxed, casual Christmas, or dancing the night away, the cross hoops look gorgeous with any outfit. They are also a favourite of Binky Felstead's, as they've been spotted on her Instagram stories and posts @binkyfelstead over the last few weeks!
Associated with the Christmas period, a star is the perfect symbol to gift someone at Christmas. For a suitably festive gift, Mimi recommends the elegant Star Gold Pendant Necklace, or the Star Signet Gold Pinky Ring; a classic piece with a modern twist, encrusted with genuine Swarovski crystals into the face of the ring for that extra sparkle.

Nu's top picks
With Nu's go to metal as 925 Sterling Silver, her statement style is simple knits and patterned statement scarves. She loves to mix delicate chain jewellery with chunkier pieces for the perfect layered look and her statement hooped earrings are easy to style from day to night, ideal for the party season.
A favourite of Nu's is the Hammered Silver Hoops, classic pieces handcrafted from 925 Sterling silver and encrusted with genuine Swarovski crystals. Dressing up a simple knit or tee, wear these hoops day after day.

For a little something extra in the stockings this year, Nu recommends the Cross Silver necklace, perfect for layering up with chunkier items including the Stella and Sienna necklaces, a great statement look. Both pieces are available as a bracelet too if you want the matching look!
When it comes to earrings, Nu is a fan of layering up the ear so her creation of the NU & MII Huggy Hoops are great for adding texture and layers to your earring collection. Available in gold and silver, the hoops look perfect when added to a third piercing. Style these hoops with the NU & MII Crystal Stud Silver Earrings.

For all your Christmas gift ideas for that special someone, NU & MII is just one click away!
SHOP THIS STORY