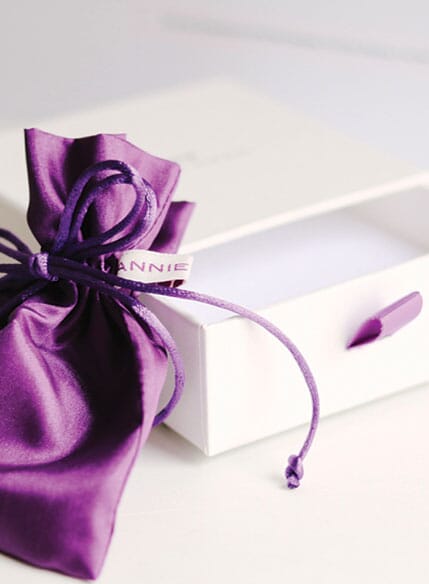 Here at ANNIE HAAK HQ, we take pride in all things jewellery (Hello, award for 'Best for Handmade Sterling Silver Jewellery 2017 – UK from the LUX-Review awards!) including in our packaging.

All of our jewellery is beautifully presented in our signature ANNIE HAAK jewellery pouch, which comes inside a crisp white jewellery box embossed with our logo in a silver foil for a luxurious finish.

The draw-style boxes are ideal for storing your jewellery for years to come, helping to prevent tarnish. You receive one with every purchase, so you could even stack them for a stylish space to keep your jewellery!

For an extra special finishing touch, we even offer a luxury gift-wrapping service. Our beautiful gift wrap changes with each season, including for Valentine's Day, Mother's Day and Christmas, giving you a choice of gorgeous colour throughout the year. All our gift wrap is sourced in the UK and made from recycled cotton which is often covered with beautiful crushed foil for a shimmering finish.
SHOP THIS STORY