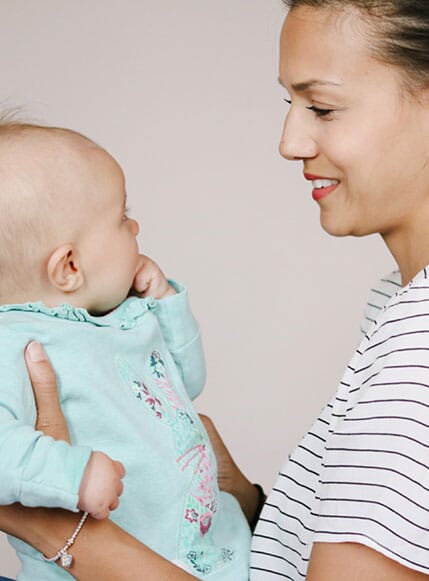 Meet Sian, our favourite mum fashion and lifestyle influencer! As a busy mum to three children and the wonderfully talented founder of the blog www.quitefranklyshesaid.com she writes about all things pregnancy, motherhood, fashion, travel and beauty and contributes to various parenting lifestyle publications.
What we love about Sian is her Mama Style; the perfect blend of elegance and simplicity. She often sports nautical stripes or flowery patterns with a simple hair up do to complement the look plus minimalist jewellery – with three small children, it's hard to accessorize with lots of grabbing hands! When we heard our favourite Mum had given birth, we couldn't help but send a special gift to celebrate such a unique moment, and we sent the ANNIE HAAK Tiny Tots Silver Charm Bracelet.

Giving a gift personalised to that special person in your life is a beautiful way to celebrate a milestone in their life. The three Tiny Tots bracelets were designed to symbolize founder Annie Haak's three children and is now our go to bracelet for new mothers.
@QuiteFranklySheSaid is wearing the charm bracelet in rose gold accessorized with the letter 'E' to reflect her beautiful baby girl, Essie. The treasured item is handcrafted from 925 Sterling Silver with rose gold beads to cradle the sterling silver initial of your choice. Worn solo for a minimalist fashion look or stack with any other ANNIE HAAK bracelets for a chunkier feel, the versatile bracelet also comes in silver and gold.
Sian says, "I am absolutely in love with my bracelet, it is already a very precious piece holding so much sentimental value and I will treasure it always."
SHOP THIS STORY