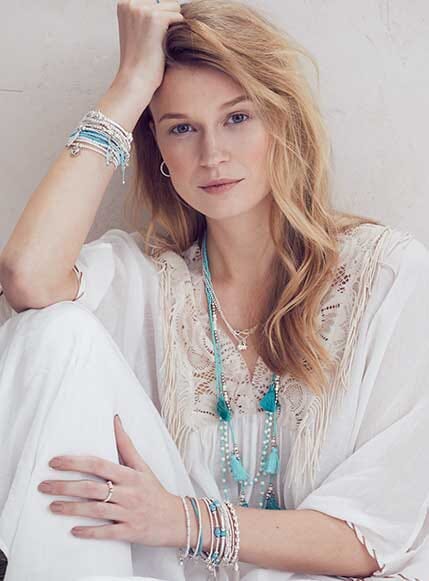 Tassel jewellery is our go to summer accessory, bringing Bali inspired boho vibes to any outfit. We have a variety of pretty hand-threaded bracelets and gorgeous necklaces with lovely statement tassels making for an impressive impact.

Our Malai Tassel Necklaces are perfect for layering! Choose from vibrant pink and turquoise or neutral cream for a chic look. Perfect alongside our Dreamcatcher Lava Beads Necklace for truly bohemian vibes.

When it comes to our silver bracelets, Annie's 'Tassel charm is one of our most popular designs. Whether you opt for a classic Orchid Silver Charm Bracelet or one of our new designs the SS17 Harmony Tassel Silver Charm Bracelets, all eyes will be on you!

If statement tassels aren't quite your thing, we have subtle ones too. Our Chain Friendship Bracelets have cute little tassels finishing off the handwoven nylon cord and dainty silver chain design. With a choice of stunning summery colours, this bracelet is perfect to pop in your suitcase to ensure on trend style anywhere in the world!
Whether you're off on a sunny summer holiday, festival goers or just looking for an addition to your everyday style, our tempting tassels are perfect for everyone!
SHOP THIS STORY