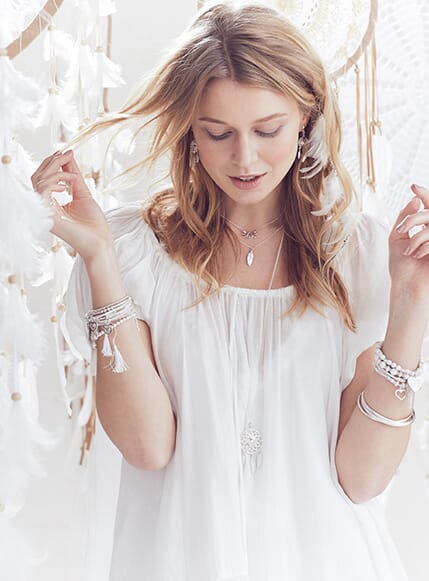 Are you ready for a heavenly haze of dreamy dreamcatchers, fabulous feathers, vibrant colours and gorgeous Bali inspired jewellery? Then say hello to the ANNIE HAAK SS17 Heavenly Collection.
Drift into paradise with gorgeous marble effect and turquoise beads alongside fabulous Sterling silver, gold and rose gold for pretty Ibiza sunset vibes. This season's subtle colours inspired by summery pinks, whites and pale purples alongside gorgeously dreamy feathers, dreamcatchers and tassel charms, helping you to escape the hassle and bustle of daily life!

Set your spirit free by adding a touch of boho to your summer style. Why not choose our Harmony Silver Charm Bracelet, Dream Catcher Lava Beads Necklace, or the aptly named 'Boho' bracelets and rings to add a gorgeous splash of vibrant colour amongst neutral tones! With a variety of gorgeous heavenly styles to choose from, you are sure to find something to suit you.

Let us introduce you to Annie's luxuriously special stacks all of which are named after the heavenly theme capturing this seasons laid back vibe. A fabulous mixture of metals, textures, colours and styles to suit any occasion. Vibrant stacks such as the Scrumptious Bracelet Stack and the Virtuous Bracelet Stack are perfect for those looking for festival style, making it feel like summer wherever you are come rain or shine! If you are looking for something more simple, the Heavenly Bracelet Stack is designed with our forever popular Santeenie Silver Charm Bracelet for a classic ANNIE HAAK look.

This collection is ideal for romantic holiday destinations, luxury weekend breaks and a daily pick me up all summer long. So go on, treat yourself!
SHOP THIS STORY