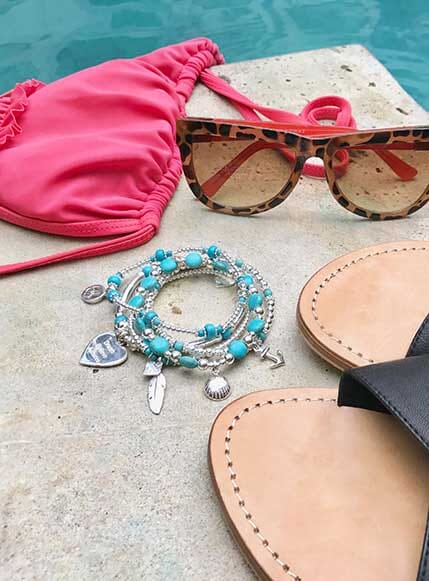 Keep that summer vibe alive even when the sun goes down with this season's fabulous turquoise jewellery.
A serene blend of blue and green, turquoise is believed to have cooling and calming attributes, making you feel relaxed in your mind and body whilst giving you a sweet feminine look.

Drift off to paradise with beautiful bracelets from the Tranquil Turquoise collection. The soothing cracked-effect turquoise beads, from the magical island of Bali, are mixed with gorgeous 925 Sterling silver and pretty charms inspired by summer. Either pick your favourites from the collection, including a nautical inspired 'Anchor' charm and a pretty 'Peace' charm, or buy the Tranquil Turquoise Silver Charm Bracelet for the complete set!

If you're looking for something simple but just as bright, our friendship bracelets are colourful and sweet. The 'Chain', 'Infinity' and 'Mini Wanti' style turquoise bracelets are ideal for adding a little pop of this season's hottest colour to any outfit. If a classic ANNIE HAAK stack is what you're after, our Luscious Bracelet Stack is the perfect mix of turquoise and silver!

Summer is perfect for adding festival vibes to your wardrobe, whether that's with a statement necklace or colourful bracelet. Our Dreamcatcher Lava Beads Necklace in turquoise is an ideal accessory this season, especially when paired with our Boho Turquoise Bracelet and Ring! Maybe the Malai Turquoise Tassel Necklace is more your style, handcrafted with an assortment of beads and stunning hand-woven tassels which is sure to make you feel like you're in heaven.
Add some beautifully unique jewellery in summery turquoise to your jewellery collection for a fabulously boho look!
SHOP THIS STORY