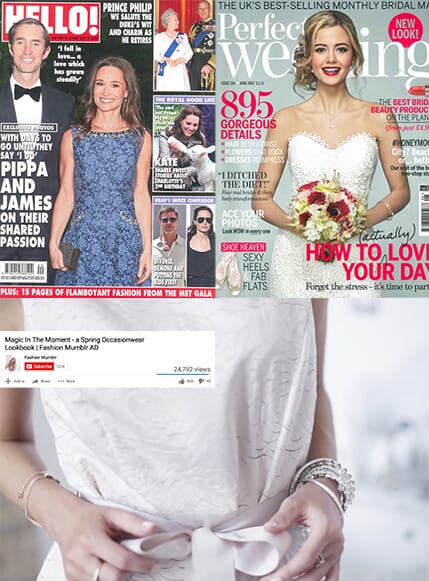 In May our luxurious jewellery has not only been featured in some high-profile magazines, it's also graced the screens of YouTube channels on the web too!
Professional Jeweller, a one-stop source for all news in the British jewellery industry, covered our glamourous event at Drakes jewellery store in Plymouth earlier this month. Showcasing the gorgeous new SS17 Heavenly Collection, ANNIE and the team were treated to canapés and bubbly as they chatted to loyal ANNIE HAAK fans.

With Pippa Middleton and her then husband-to-be on the front cover, Hello! Magazine chose our gorgeously unique Oval Gold Bangle from the Love Story Collection as one of their favourite bracelets this month. The gift of luxury for any bride to be.
Our jewellery has graced the screens of many as our Russian Triple Linked Hammered Silver Bangle was featured by Fashion Mumblr on her YouTube channel. 'A Spring Occasionwear Lookbook' showed off Josie's elegant and classic spring outfit ideas. All such sophisticated looks, perfect for a wedding, a day at the races or even a fabulous lunch date!
As wedding season is upon us, Perfect Wedding had a fabulous feature helping you to recreate 3 gorgeous bridal looks. They included our Berisi Silver Necklace - a beautiful tear drop style pendant necklace from last season's collection. Our new SS17 necklace designs are now available on our website to replicate this look, you are sure to find something that will inspire your style for your big day!

Annie and the team attending the event at Drakes jewellery store in Plymouth seems to be popping up all over the jewellery world press. Retail Jeweller featured the event in their June edition, along with a lovely photograph of ANNIE with Drakes' director, Monique.

Keep a look out for more of our fabulous jewellery in the some of the hottest titles again next month!
Click here to view all our features in the press
SHOP THIS STORY