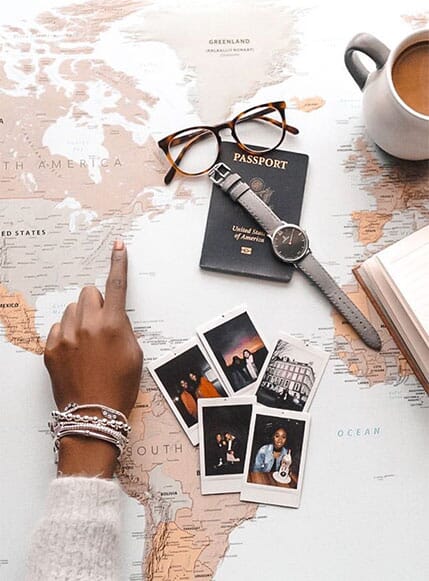 January blues have well and truly set in, and with the excitement of Christmas and New Year out of the way we think it's time to start thinking about a holiday!

What's not to be excited about? It's a whole new year! That's 365 new chances to make memories that will last a lifetime on amazing adventures across the world.
London City Breaks

City breaks are an exciting chance to get away from day to day life, and London is no exception! Visit the iconic landmarks London has to offer, such as Buckingham Palace, the Tower of London and the London Eye. Our girl @imlaurenblack brings gorgeous fashion to London's streets, styling our Stardust Bracelet Stack, Itsy Bitsy Mini Moon Silver Necklace and Samara Swarovski Silver Ring with a statement red jumper on a cold winter day.
Luxurious Italian Lakes

For a relaxing holiday, the Italian Lakes are the perfect setting. Choose from Lake Como, Lake Garda or the nearby beautiful city of Verona for a luxurious escape. The lovely @fashionisminepassion styled her silver and rose gold Luminous Bracelet Stack with stunning red nails, the perfect combo!
Gorgeous Greek Islands

If you're after a bit of summer sun, Greece is perfect! It's the kind of place you see all over Instagram feeds and travel blogs, with bright white buildings surrounded by a beautifully blue sea. Relax by the pool, soak up the sun and show off your gorgeous jewellery like @bookonin with her stunning Sterling silver bracelets.
Snowy Mountain Escapes

For scenes, you would usually only see on a Christmas card, a snowy trip is a must. Choose from dog sledding in Lapland, visiting the Blue Lagoon in Iceland or skiing in the Alps for a magical winter wonderland. Braving the chilly Italian Dolomites, @fashionisminepassion styles a faux fur coat our Aurora Bracelet Stack and the Lucki Rose Gold Looped Bracelet for a mixed metal finish.
Where will this year take you? Show us your ANNIE HAAK jewellery all over the world on Instagram @anniehaakdesigns
SHOP THIS STORY