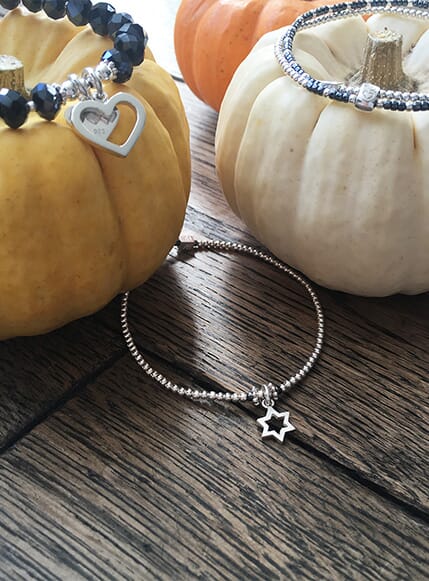 It's that spooktacular time of year again when you either relish in the fact you can dress up in fancy dress and scare yourself silly with horror films! Or if you are like us avoid the scary films as you wouldn't sleep for a week after watching it, but instead set up camp in the kitchen and bake some not so scary cute Halloween cupcakes. Further down in our blog is our cupcake of choice so keep on reading!

But first let us show you our Halloween jewellery guide, as it is not all about blood-red splatters and vampire fangs! We prefer to go for the more stylish Halloween accessories like our super cute Serasi Dua Silver Bracelet – Hematite and matching ring or how about go extra glam with our Heart Tassel Silver and Hematite Earrings. This will ensure you are ultra-chic this Halloween.
Halloween bake-off time and we could not be more excited to get cracking on these cute little ghost cupcakes this weekend ready for Monday!
We have listed the recipe and method below so you can join us and bake your own cake to impress the rest of the office come Monday.

Let's get baking!!
Ingredients for the cupcakes
140g/5oz butter, softened
250g/9oz caster sugar
2 free-range eggs, lightly beaten
1 tsp vanilla extract
150g/5½oz plain flour
75g/2½oz self-raising flour
1 tsp bicarbonate of soda
50g/2oz cocoa powder
200ml/7fl oz buttermilk or plain yogurt
Ingredients for ghosts
2 pounds white buttercream fondant
Cornstarch, for rolling the fondant
12 chocolate cupcakes with chocolate frosting
12 small lollipops, such as DumDums
1 small tube black decorating gel