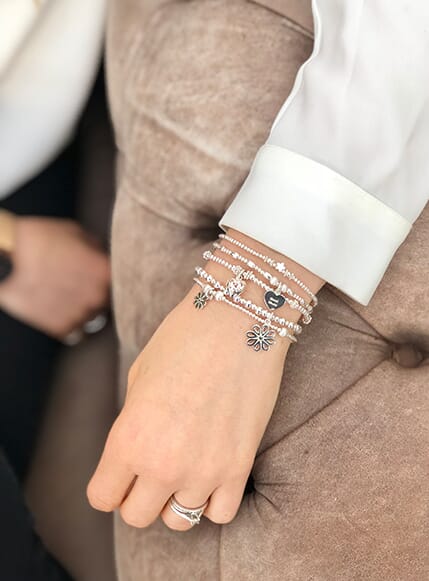 It's almost that time of year again where you thank your Mum for all the things she has done for you over the past year and throughout your life. Here at ANNIE HAAK, we think jewellery is the perfect timeless gift for any Mum, as it's something she can cherish forever.
This year, Annie has designed two gorgeous floral-inspired Sterling silver bracelets, aptly named 'Bouquet of Flowers' and 'Posy of Flowers'. They are perfect to give your Mum this Mother's Day if you're after a gift that'll last longer than a real bunch of flowers. In fact, it's a bouquet that'll last a life time!

The Mother's Day Bouquet of Flowers Silver Charm Bracelet and the Mother's Day Posy of Flowers Silver Charm Bracelet are both classy and elegant, making them the ideal gift for Mum! They feature either 5 or 3 stunning strands with our popular and pretty floral charms.

Each design also features a 'Teeny Motto Heart' charm to give it a personal finish. Whether you choose 'Fabulous Mum', 'Love You Mum', 'Mummy' and 'Best Mum' engraved on the pretty heart shaped charm, we think she will love it!

Flowers and chocolates may be the standard Mother's Day gift, but we think Mum will be dropping hints for some seriously stunning Sterling silver jewellery this year.
SHOP THIS STORY