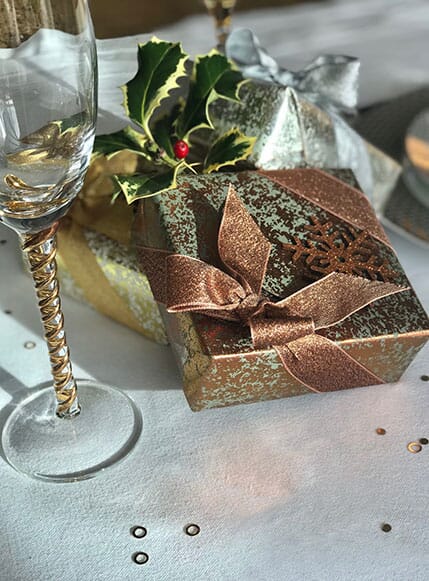 ANNIE HAAK Designs is at your service with our luxury Christmas gift wrapping service. With a choice of three Christmas gift wraps plus our most popular purple, your presents will be the best in show this Christmas!

Brand new for 2017, our copper wrap is inspired by the beautiful Autumnal colours and is the perfect addition to put the finishing touches on a present, particularly a rose gold piece. One of our favourite stacks, the Luminous Bracelet Stack is the ideal present to unwrap under the coppery shades!
This year we've also chosen the classic Christmas colours of silver and gold for gift wrap. Whether you're channelling Father Christmas and adding a delicate Santeenie Silver Charm Bracelet to a stocking, or going for gold with the beautiful Splendorous Stack, we can gift wrap anything and everything!

Our Christmas 2017 gift wrap is handcrafted in the UK from recycled cotton and covered with hand applied crushed foil for the perfect finish! All gift wrap comes with a matching tag, which can be hand-written by our team or left blank for your message, and a cut-out, dainty snowflake decoration.

For just £5.95 per item, say Happy Christmas with the gift of Annie Haak.
SHOP THIS STORY