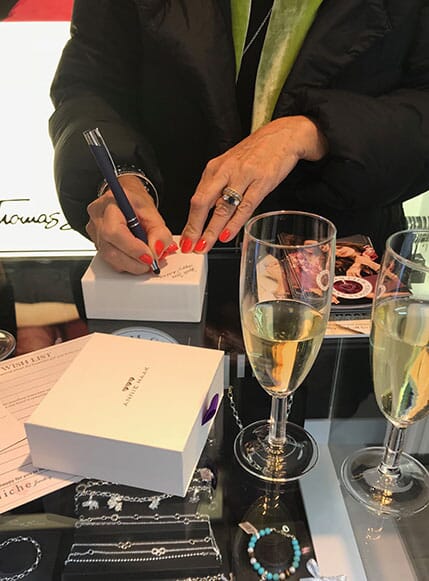 Last Saturday, Chloe and I joined-forces to put on a Meet the Designers event, hosted by Niche Jewellery in their flagship store, Leigh-on-Sea. After being welcomed with plenty of bubbly and nibbles, it was time for me to take centre stage to tell my very own story of creating a business, from small-cottage trading to successful jewellery brand!

It was so lovely to be able to share my journey and meet lots of wonderful customers who like my designs, that's really humbling! The event was a great success and I even had an autograph debut signing the jewellery gift boxes for our delighted customers.

Since we started trading with Niche Jewellery, the shop has become one of our fastest growing stockists and their lovely staff are huge fans of the Hematite range in AW17 Northern Lights! Niche, specialising in branded and diamond jewellery is a lovely family run business, similar to the ANNIE HAAK Designs set up.
Niche was a fantastic host and the store is classy and chic. I look forward to going back and continuing our relationship together!
For more stockists, click here.
SHOP THIS STORY