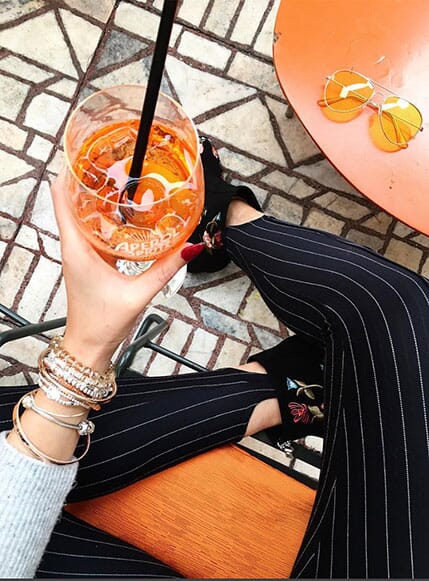 Taking Instagram by storm is our favourite fashion influencer Paulina Grabowska, the beauty and brains behind @FashionIsMinePassion. We've worked closely with Paulina on several campaigns and are totally obsessed! She's a down to earth girl, owning dynamite style whose partner is a fabulous photographer and together they make up the beautiful blog Fashion Is Mine Passion.

This Instagram babe can regularly be seen shooting in her hometown of London, or jet setting through Europe spreading her beautiful style around the world. We love this shot of her in Milan sporting mixed metal accessorizes.

As a fashion goddess, her choice of rose gold and sterling silver bangles paired with black and white striped trousers and a simple grey jumper adds a pop of colour, and complements her fabulous floral boots! Paulina is wearing the Luminous Bracelet Stack, Samara with a Twist Rose Gold Bangle, the Cosmic Star Rose Gold Bracelet in Orange and the Santeenie Rose Gold Charm Bracelet with 'Feather' charm.

What we love about Paulina is that she stands out from the crowd and isn't afraid to embrace her own bold personal style, the perfect fashion role model! Her colourful outfit of reds, oranges and yellow is the perfect canvas for a selection of classic sterling silver pieces. She's embraced experimenting with layering bangles and has stacked two Samara Swarovski Silver Bangles with the Sterling Silver bangle from the Gleaming Bracelet Stack. Looking fabulous as always!
Having recently returned from a weekend trip to Milan, we can't wait to see the latest pictures from the fashion duo! Keep an eye out on Instagram @anniehaakdesigns and @fashionisminepassion for more beautiful fashion images!
SHOP THIS STORY