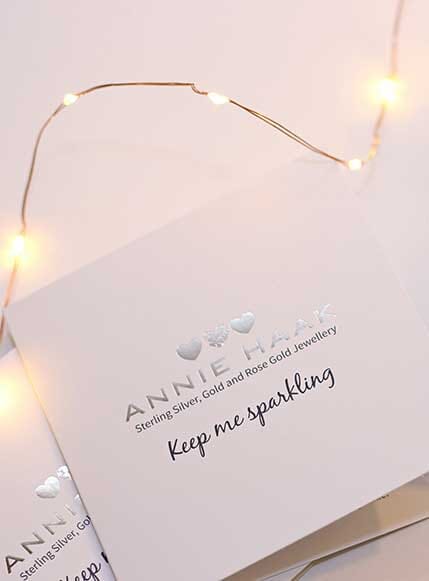 Keep your ANNIE HAAK jewellery collection sparkling with our new complimentary polishing cloth.
With every piece of silver jewellery purchased, we now pop a 'Keep Me Sparkling' care guide with a silver polishing cloth into each order, to keep the new addition to your collection in top condition.

The polishing cloths are simple to use! Just gently rub the silver parts of the jewellery with your cloth until it sparkles, trying to avoid other materials such as crystals, gemstones and pearls. The polishing cloth will help to remove dirt and body oils from the jewellery, which can cause it to look dull and tarnished.

To keep your jewellery from tarnishing, avoid contact with cosmetic products such as hairspray, perfume and sun cream, harsh chemicals in cleaning products and remove your jewellery before swimming, showering or bathing.

Prevent scratching and tarnishing when you're not wearing your ANNIE HAAK jewellery by making sure to keep it safely stored in the gorgeous purple pouch it came in, keeping your jewellery looking gorgeous and polished!