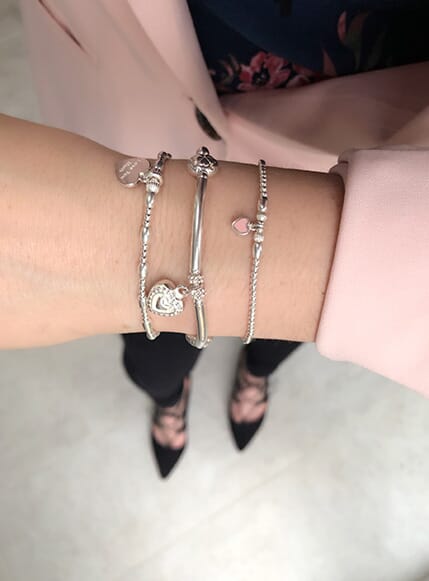 Are you struggling with gift ideas? We have plenty of meaningful gifts for you to spoil Mum with this Mother's Day, so we have picked our favourites to make things a little easier for you!
Our lovingly handcrafted Sterling silver bracelets have been specially designed for our Mother's Day collection, so you can choose something that she will cherish forever.

The 'Forever Heart' design features an eclectic mix of beads and tubes, with our 'Heart Heart' charm taking centre stage. It's chunky yet feminine, and an ideal gift for Mum.

For those Mums that love a hint of pink, our Rose Pink Heart Silver Charm Bracelet would be perfect. It's a gorgeously feminine design and we absolutely love the pretty 'Pink Heart' charm! It's a definite favourite at ANNIE HAAK HQ.

For a stunning stack of Sterling silver that will make your Mum feel truly special, our Mother's Day Bouquet of Flowers Silver Charm Bracelet is an absolute winner. The floral inspired design means you can give the gift of flowers that will last a lifetime, while the 'Teeny Motto Heart' charm lets you pick what you would like to say to the special lady in your life. It's something your Mum is sure to love!
After all, Mum deserves the best!
SHOP THIS STORY