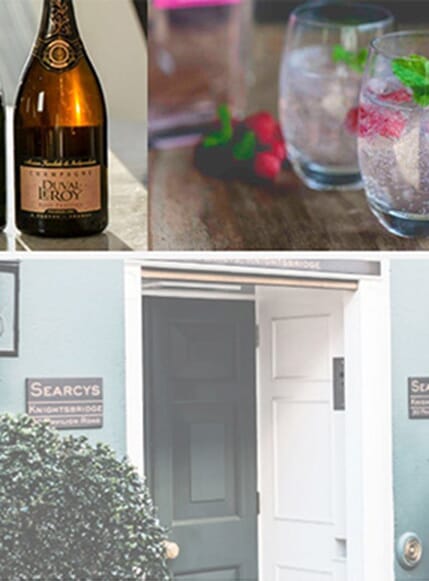 On Wednesday night 1st March, some of the Annie Haak team took off to London to celebrate successful women in business, in preparation for International Women's Day (8th March). The sparkling champagne filled event was organised by Searcys, and held in the ultra-luxury location of Knightsbridge, at Searcys house.
Guests were greeted by a glass of Duval-Leroy and the lovely team at Searcys, who made us feel so very welcome and at home. Soon after arrival, dinner was then served which was a delicious bite size bowl of fish and chips - traditional English cuisine is always a winner for us Annie Haak ladies! This dish was paired with Duval-Leroy Brut NV Champagne. The best of British – a great way to start the evening!
An Italian dish followed next and this was just a tasty as the first course. A creamy Bocconcini, heritage tomato and basil risotto accompanied by Duval-Leroy Brut NV Champagne… A match made in heaven.


As the focus of the evening was to celebrate inspirational and powerful women in business it was only right that the next champagne was a female inspired bottle. Duval-Lorey Femme De Champagne 2002 was served with Polo a La Brasa, Mirin Glaze and Pickled Dikon. The taste of both couldn't have been more perfect…. If only we could go back for seconds!
Now, whenever dinner is mentioned, the question that follows closely is; what's for desert? And tonight, as we were treated to a fabulous French delight. A Trio of berry macarons or French cheese selection with classic condiments. This little collection of heaven was paired with Duval-Leroy Rose Prestige Premier Cru Champagne a great way to end dinner and beyond all expectations!


After all the fantastic champagne tasting and delicious food it was up to the Ballroom to be inspired by some truly fantastic women. The speakers included Harriot Bouverie founder of Mallow and Marsh, Anna Whitehouse, founder of the blog site Mother Pukka, Lyndsey Simpson, partner at The Curve Group and Jacinta Phelan, professional chef and restaurant manager.
All of these women have come from different backgrounds and followed very different journeys to get to where they are today, but ultimately all were inspiring in their own right. A fabulous evening was had by all.

But before the night came to an end there was just enough time to taste Pinkster Gin at the Gin bar which was located in the grand Library. The Pinkster Gin tasted great with a light and fluffy Mallow & Marsh chocolate bar. Where the perfect compliment to each other and a must to try!


Thank you for having us Searcys.