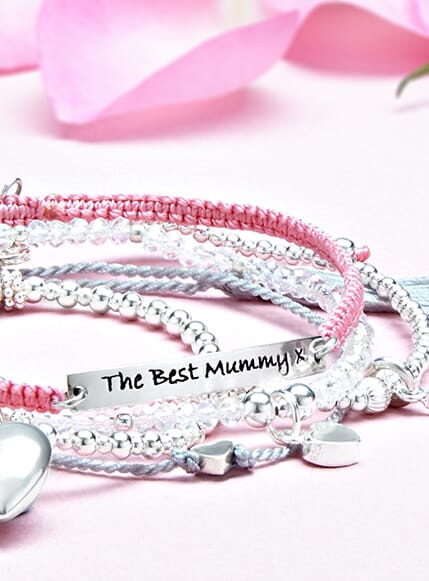 The ANNIE HAAK Mother's Day collection has arrived! Give something special to someone special this Mother's Day.
Mothers and daughters always share a special bond, so why not share a treasured piece of ANNIE HAAK jewellery too? Due to popular demand, we have created an identical child's bracelet stack that matches mums especially for your little princess to wear. The matching stacks are lovingly hand-threaded with 925 Sterling silver beads and beautiful charms with a hint of colour creating a sweet feminine touch.

The Mother's Day collection brings back old favourites from previous years, such as our beautiful Bunch of Flowers Silver Charm Bracelet and our Tiny Bunch of Flowers Silver Charm Bracelet, over the years these have been firm favourites! Any new mums out there that don't already own one or both deserve a set this Mother's Day and what says I love you and thank you more than flowers that last a life time!
If your mum is more of a matching necklace and earrings kinda mum, we have that covered too! Check out our Daisy Flower Silver Stud Earrings and matching Gili Flower Heart Silver Necklace. The perfect combination of everlasting flowers.

New mums out there, celebrate the arrival of your little one with our brand new Tiny Tots Silver Charm Bracelet. The perfect personalised gift for any new Mum or even a cheeky treat for yourself. Choose either a 'Baby Boy' or 'Baby Girl' silver 'Heart' charm and of course the initial of your precious bundle of joy! Available in 925 Sterling silver, 14ct bonded gold and rose gold, this bracelet is great for any occasion from nursery drop offs to dinner with the girls!

We know it's traditional to give flowers to your Mum on Mother's Day, but this year give her a gift that will last forever. We are certain she will love it!
SHOP THIS STORY