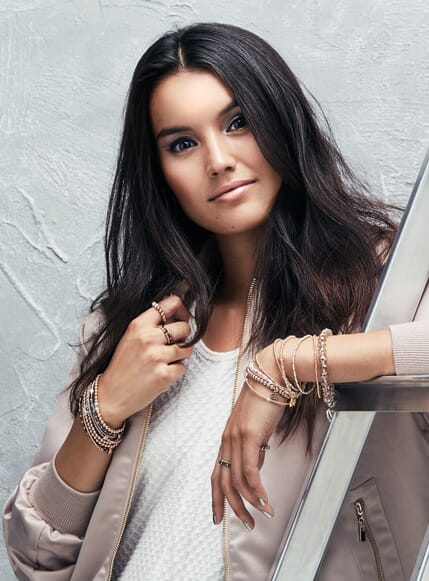 What better way to compliment your spring wardrobe than with an ANNIE HAAK bracelet stack? Because why would you wear just one gorgeous bracelet when you can wear them all!
Mixed metals are still hot this season - rose gold and silver stacks are sure to make an appearance! We love to pair our Mini Ria Silver Bracelet in rose gold with our Cuori Rose Gold Bracelet, Frankie's Rose Gold Bracelet and our pretty Seri Rose Gold Bracelet for a gorgeous and stylish stack with the perfect combination of mixed metal. Whether you're dressing up or keeping it casual, this combo is sure to steal the show!

Our New York City Bracelet Stack is a blogger favourite, with its beautiful shades of muted pink, dusky grey, white and silver. It may have been inspired by the beautiful snow covered central park of New York in winter, but the pretty colours are perfect for a spring outfit too! Perfect paired with a neutral coloured trench coat for a classy but casual look.

When creating your own ANNIE HAAK stack, anything goes! Try mixing and matching different materials, textures and designs to make your own beautiful creation. If you love a touch of sparkle, try pairing our pretty Cosmic Star Silver Charm Bracelet in your favourite colour with our Ladies Love To Have Fun Silver Charm Bracelet in the neutral toned 'Shade of White'. Add our Isi Indah Silver Charm Bracelet in clear crystal and our Amiya's Silver Charm Bracelet for a chunkier silver stack look with a hint of shimmer.

However you like to stack with ANNIE HAAK, why not show us!
Snap a photo and tag us on Instagram @anniehaakdesigns
We look forward to seeing your stacks!
SHOP THIS STORY