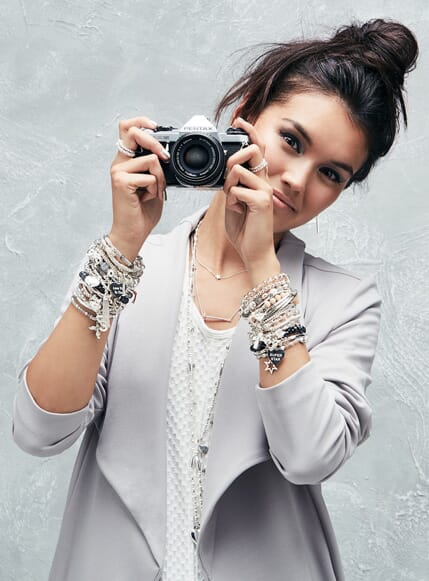 It's time to shoot for the stars with ANNIE HAAK star inspired jewellery.
There is something magical about wearing jewellery with pretty star charms, reflecting the ancient belief in the influence of stars over our destiny. Whether it's a bracelet with our 'Open Star' or 'Tiny Boxed Star' charm, pretty 'Three Star Silver Necklace', or a pair of our 'Tiny Boxed Star' Stud Earrings, we have a lucky star for you.

Stars bring good luck and ambition, so if a special someone in your life is starting a daunting new chapter in their life, a piece of jewellery influenced by stars could be the perfect gift to help guide the way. They may be sitting exams, having a baby, starting a new job or heading off to university, whatever their new challenge is a star charm will give them the luck and encouragement they need.

When thinking of loved ones near or far, remember we all look up at the same stars each night wherever we are on the earth. For your loved one who is a star in your eyes, behold our 'Super Star' motto heart charm! A meaningful gift available on a variety of our bracelets, including the 'Crystal Rocks Silver Charm Bracelet'. Show them what a star they really are!

Often seen as a symbol of guidance and direction, stars are also associated with magic. It has long been thought that when you wish upon a shooting star, the person lucky enough to see it is granted their secret wish. Who knows, by wearing an ANNIE HAAK star inspired piece of jewellery your wishes may just come true!
SHOP THIS STORY