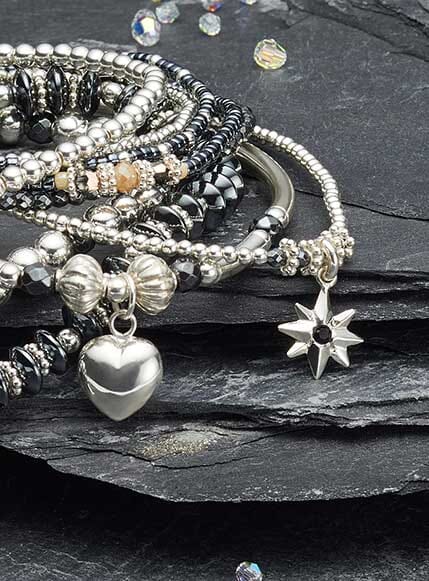 Dreaming of those beautiful starry nights? With ANNIE HAAK the magic of the night's sky is within easy reach.
When we gaze at the stars, we're actually looking into the past. Many of them are so far away that they have already lived their beautiful long lives, but luckily for us they still like to shine.
Wearing a star represents the divine spark within us, so now's your time to shine and live in the moment with our delicate selection of star inspired jewellery. It's here and ready to be worn in style!

In celebration of our AW17 Northern Lights collection, I'm excited to announce that it contains a selection of different star styles, so there's plenty of variety to choose from.
I've just designed a brand-new star charm, the Twilight charm containing delicate Hematite detail in the middle. Coupled with the healing powers of Hematite and the cosmic symbol of the star, this delicate charm denotes inner power, strength and determination.

My personal favourites are the Special Stacks, ten of which contain star charms, in particular the Lunar Bracelet Stack; the perfect cosmic accessory to make your wrists sparkle!
If you enjoy style and simplicity, the Tiny Boxed Star Silver Earrings, teamed with our Tiny Boxed Star Silver Necklace are perfect for everyday wear or for a special night out.

The signature bracelet from this collection is the divine Santi Star Silver Charm Bracelet, a three-strand classic bracelet stack with beautiful decorative beads and fabulous charms.
So whatever your style you're sure to find something beautiful to show off your inner star!
SHOP THIS STORY