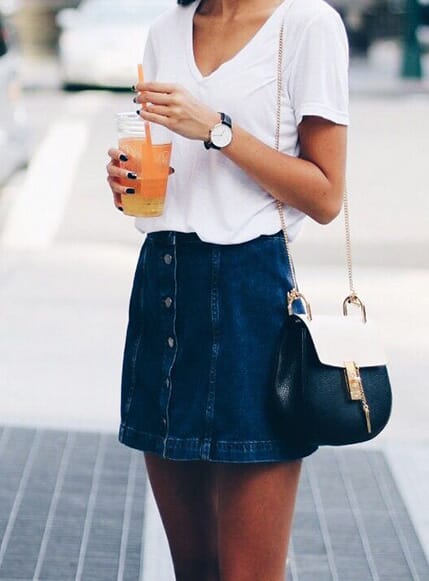 With so many cute summer outfits to choose from, packing for your summer holiday wardrobe can be a bit of a challenge. Especially when you're excited about jetting off and can't fit everything in to your suitcase! Fear not as we have three of our favourite summer holiday outfits for three different holiday locations, making packing super easy and stress free!
CITY BREAK

Denim skirts are back in town, a style that we are mega fans of! The summery button front style of skirt may throw you back to fashion in the early noughties, but they have returned to turn your summer wardrobe up a notch. Wear with a simple white V neck t-shirt, comfy shoes and a trendy saddle bag for an outfit that is ideal for walking around the streets of Rome, Copenhagen or Paris. Accessorise with a subtle hint of sparkle from our Entrancing Bracelet Stack and cute Oval Silver Earrings for a casual look.
COUNTRYSIDE ESCAPE

Stripes and khaki are always a go to summer palette. Style a white and black striped t-shirt dress with a khaki coloured light jacket for those summer evenings in the countryside. White pump trainers a perfect for this outfit, just stay away from muddy countryside paths! Our Samara Swarovski Gold Bangle in clear crystal adds a chunky glisten to your wrist, along with our pretty Small Hooped Gold Heart Earrings and our Oval Gold Ring for some fabulous style.
BEACH PARADISE

Just in case you missed it, turquoise is the hottest colour of the season! Not only does the cool tone make your tan well and truly pop, but a turquoise bikini also goes perfectly with our Tranquil Turquoise Silver Charm Bracelet for a luscious tropical look. A pair of white sandals and a white floaty cover-up really pulls the beach babe look together, especially when finished off with our statement Malai Turquoise Tassel Necklace!
Whether you are staying in England or jetting off to tropical paradise, look the part with on trend fashion and stylish jewellery.
Show us our jewellery in your holiday snaps on Instagram
SHOP THIS STORY