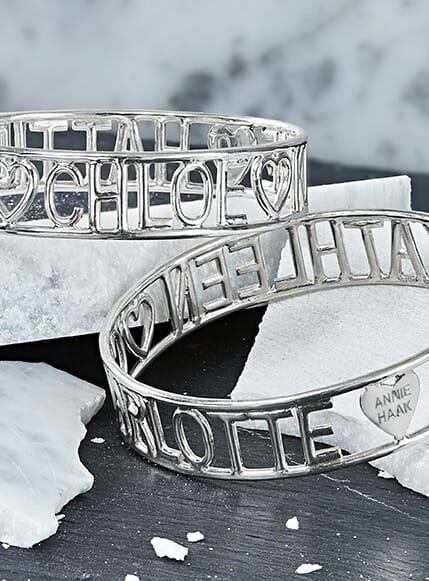 Mother's Day is just around the corner – the day we celebrate all aspects of motherhood and the wonderful women we call Mum. It's time to show our appreciation, and what better way than with a treasured gift of jewellery.

Your Mum has probably held you in her arms a thousand times over the years, so now is the time to shower her with something meaningful, like our beautiful Bespoke Love Is All Around Silver Bangle. This bangle is lovingly hand-crafted by Annie's personal silversmith, making it even more unique.

Choosing this ultra bespoke bangle shows just how much you adore your Mum. Personalise with a loving message, this could be a thoughtful quote, the names of her children, or a note that shows your love. This message will be carefully soldered onto the bracelet by our silversmiths using their expert skills, creating you a perfect and individual piece of jewellery that your Mum can treasure forever.

Of course this sounds like the perfect gift for your Mum, so make sure you order it by Monday 13th February, as this exquisite piece is so unique it takes approximately 6 weeks from your approved order to delivery.
Happy Mother's Day!
SHOP THIS STORY