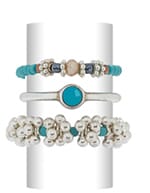 This summer it has to be said the sun is shining high in the sky and we are all loving it!! But we don't want to shout about it too much other wise things could revert back to the usual British summer time – and no one wants that!

So lets make the most of the lovely summer sunshine and indulge in some stunning jewellery that will complete the bright yellows rays.

Turquoise has always been know as the summer must have stone and we at ANNIE HAAK have the perfect solutions just for you!
The holiday must have!