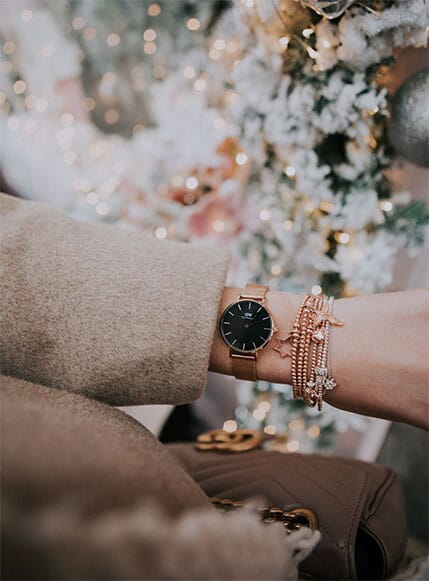 From watching fireworks to partying the night away, we've got a style guide that will make sure you look the part as you bring in the New Year!
Paulina from @fashionisminepassion is still one of our fave fashion icons in the Instagram world! Wearing a neutral toned oversized coat with a chunky knit scarf and rose gold accessories is the perfect way to stay warm while watching some fabulous fireworks come 31st December. Our Precious Bracelet Stack, Serasi Dua Silver Bracelet in Rose Gold and Piccolo Rose Gold Charm Bracelets are ideal for cold evenings! Pair with your favourite brown handbag and boots for all over coordination.

Your favourite LBD and Sterling silver jewellery is a match made in heaven! You can't go wrong with a classic black dress, some statement boots and a bold printed jacket this New Year's Eve. Layer our Moon Pendant Silver Necklace with our pretty Itsy Bitsy Mini Moon Necklace like our girl @imlaurenblack for a stylish yet classic look. Top the look off with some gorgeous hoop earrings, such as our Samara with a Twist Silver Earrings, for an on-trend finish.

Burgundy is always a winner in the winter, and New Year's Eve is no exception to the luxurious colour! Keep it classy with a burgundy long-sleeved blouse and camel coloured knits for a chic and elegant look. Paulina from @fashionisminepassion styles her spotted burgundy top with a stunning Sterling silver stack. Styling our Samara Swarovski Silver Bangle in Clear Crystal with our 'Frankie's' and 'Mini Ria' style bracelets for some dazzling arm candy.

With these style tips and a glass of bubbly or two, you're ready to welcome 2018 in style!
SHOP THIS STORY