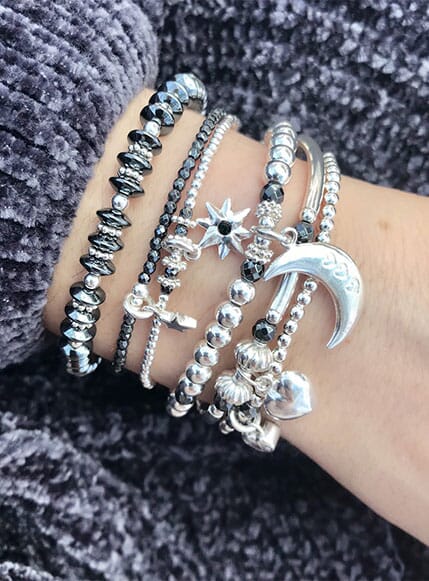 2018 is your time to shine! Our luxurious Semi-Precious Stone Collection is beautifully created for a timeless and elegant look, perfect for complimenting any outfit or style.
The dusky grey tones of Labradorite are perfect for this time of year. The beautiful shade of soft grey freckled with specks of dark blue and green shimmers like the Autumn/Winter collection's namesake, the Northern Lights. The Aurora Bracelet Stack is chunky yet feminine, featuring ANNIE's signature 'My Guardian Angel' charm alongside the heavenly 'Feather' and 'Open Star' charms.

Hematite is a fabulous dark coloured stone which is number one for accessorising your Autumn/Winter wardrobe. The glistening beads are chic, on-trend and help to strengthen your connection with the earth – what more could you want from your jewellery? With great healing properties, hematite helps to restore, regenerate and strengthen, giving you more balance.

Our vibrant orange and cool grey 'Agate' bracelets are chunky statement pieces with a smooth and shiny appearance. Agate stones bring a sense of balance to all chakras, helping to promote harmony whilst easing the mind. These bracelets are the a great gift for those who love yoga or meditation, as Agate can help improve focus and relaxation.

Semi-precious stones are empowering and perfect for adding an eclectic yet contemporary shimmer to your outfit.
SHOP THIS STORY