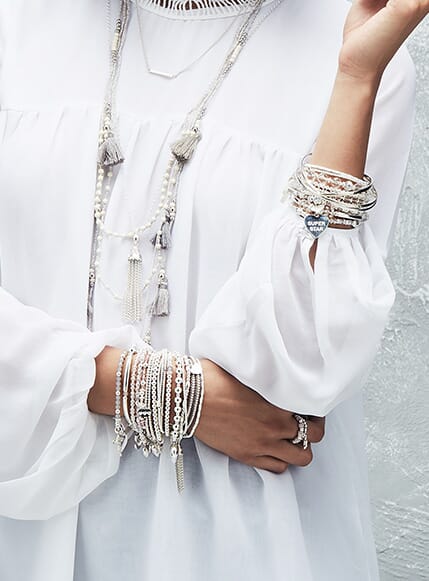 As many of you know ANNIE HAAK jewellery is designed to be worn stacked with multiple pieces from each collection, and the AW16 City Lights Collection is no exception.
Quite often we get asked questions on how to stack and what to pair with what, so we have answered your top 5 stacking questions in a bid to help create your own stack.

Your stacking questions answered.
How many pieces make a great stack? As many or as little as you wish. Depending on the look you are trying to achieve a small stack can work just as well as a massive arm stacked full.
How do I know what works as a stack? Simply choose colours and tones that complement each other, for example, our City Sparkle Silver Charm Bracelet would work perfectly in a stack with our Cosmic Star Silver Charm Bracelets as the muted tones and Swarovski crystals would bounce off each other creating the perfect pallet.
What charms work best together? There is, no real set rules in answer to this question, but if you like it, it usually works! Try to include smaller charms combined with larger charms to give a balanced look. You can also throw in some charms with cut-out shapes, like our 'Open Star' mixed with solid shaped charms, like our 'Puffed Heart', this creates a diverse and textured look.
Do you have any stack recommendations? Yes, absolutely Annie Special Stacks have been put together by ANNIE HAAK herself, using her favourite stackable bracelets from the AW16 City Lights Collection. These special stacks are available at a special price compared to when you purchase these bracelets individually. Shop special stacks here >>

Final rule to stacking? The rule is there are no rules, go crazy and stack any of the styles, charms and colours that take your fancy, you can never get it wrong!
Happy Stacking!
You can stack any of your ANNIE HAAK bracelets like we do! The question is... When do you have too many?
You can never have too many bracelets #FACT!