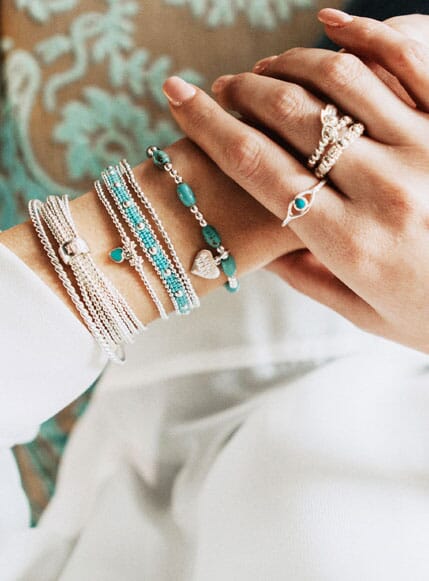 As life becomes more and more busy, or so we are led to believe, it's often hard to step back and ground yourself in the present moment. Here at ANNIE HAAK, we're firm believers of the power of greater forces that keep us present and level-headed in our daily lives. This season, Annie and Chloe have introduced a range of summery turquoise coloured pieces that reflect the grounding properties of turquoise, and remind us that everything is fluid, can heal and will achieve its emotional balance.
The colour turquoise represents femininity, friendship, prosperity, tranquillity, wisdom and creativity; a grounding ethos that ANNIE HAAK Designs lives and breathes. Turquoise is said to be one of the oldest protection symbols relating to many ancient traditions and was thought to offer meaningful connections to the spiritual world and achieving emotional balance.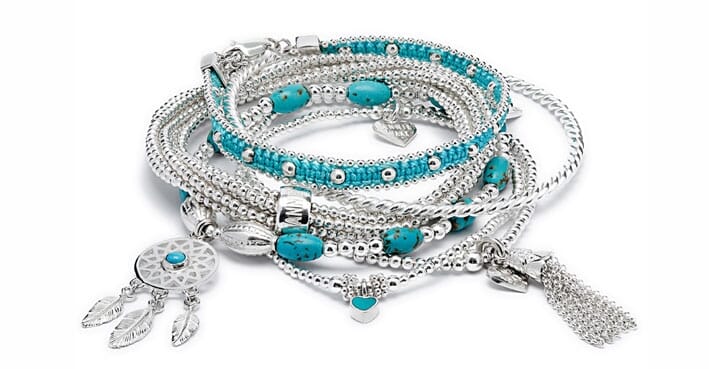 Featuring in the SS18 Dancing with Colour collection, Annie has introduced the Foxtrot and the Tanqo Turquoise bracelet stacks, two statement stacks featuring 925 Sterling silver and delicate turquoise coloured beads. These stacks channel your inner peace, representing creativity and patience that the colour turquoise offers.
When worn every day, turquoise can also offer incredible healing powers for health ailments and is cited as an anti-inflammatory with the ability to strengthen the mind and body.
The full Tranquil Turquoise collection is available to view here.
#theoriginalstackingbrand